CSAudioCDBurner - Burn an Audio CD With C# VB .NET
.NET library to Burn an Audio CD from WAV with C# and VB .NET.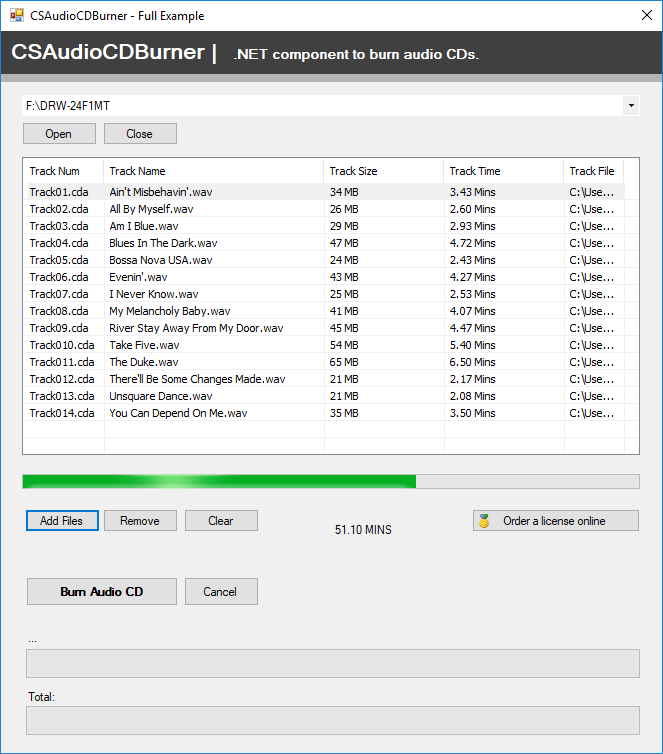 The CSAudioCDBurner is available for FREE for personal or free usage, for commercial usage please
buy a license
.
About
The CSAudioCDBurner is a .NET library for software developers that can burn an Audio CD from the standard PCM WAV files with C#, VB and ASP in the .NET Framework and the .NET Core platforms.
Benefits
A Dot NET component (.NET Framework and .NET Core).
For WPF / Winform Apps.
Burn an Audio CD from standard WAV files.
Get the installed CD devices.
Open / Close the CD door.
Add / Remove the files to burn.
Get information about the files to burn.
Get the burning progress.
Many relevant events.
Built in threads handling.
Safe exit.
C# / VB / ASP .NET.
Latest technology - Written in 2020
Can be run as a library.
Easy to use.
C# / VB .NET well documented examples.
Cut your developing time up to 80%.
Just drop the component control on your form and start to work immediately.
The source code of this component is also available.
Licensed under the MS-PL.
Can be use in FREE and commercial products.
Example
Here is a snap example of using the CSAudioCDBurner in order to burn an Audio CD with C#:
Instructions
Commercial Usage

You are free to use the CSAudioCDBurner for free or personal usage, for commercial or any other usage please purchase a license.
The source code (C#) of the CSAudioCDBurner is also available under the MS-PL license.
Related Links